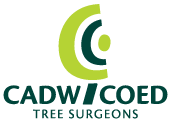 Quality Tree Surgeons in North Wales
Mission Statement
We at Cadw Coed believe trees can play an important aesthetic and ecological role in our natural environment and as a result of this belief we are committed to carrying out tree management services to the highest standards. Cadw Coed is fully insured and operates throughout North Wales and surrounding areas.
Qualifications & Experience
All our arborists and operatives are fully trained and qualified to carry out their designated tasks through the National Proficiency Test Council (NPTC) and receive regular training on latest techniques and best practice.
Health & Safety
In order to reduce the risks and promote a safe working environment Cadw Coed comply with all Statutory Legislation governing tree work operations as well as all Health and Safety Legislation, this applies to both our direct tree work operations and the operation of vehicles, equipment and plant used in the execution of these works.
Quality Management
Following an assessment by an independent body, Cadw Coed has been awarded BS EN ISO 9001 : 2008 Quality Award Certification and BS EN ISO 14001 : 2004 Environmental Award Certification.
These awards, which are upheld by the International Organisation for Standardisation (ISO) and supported by the Government and recognised worldwide, have only been achieved by less than 1% (ISO 14001) and by about 5% (ISO 9001) of UK businesses.
We have always been proud of the service we offer our clients and the way we conduct our business with regard to both quality and environmental matters. Now with the award of these certificates this has been confirmed by outside experts.
This investment in people and training enables Cadw Coed to provide a high quality, efficient and environmentally friendly service to our customers.
Professional Memberships
In order to ensure we continue to stay informed regarding latest information and developments in arboriculture Cadw Coed maintain memberships with both the :
International Society of Arboriculture (ISA)
Arboricultural Association (AA).